Our client has multiple customers on a DC power supply system and needs to know the watt hours (W.hr) or kilowatt hours (kW.hr) used by each customer. Texmate installed a Tiger 320 Series DI-50E meter to measure the DC volts from the power supply on Channel 1 and the DC amps from a DC shunt on Channel 2. The meter records the result of Channel 1 x Channel 2 as W.hr or kW.hr and continually displays this on the operational display.
The volt reading can be viewed by pressing the UP button and the amp reading viewed by pressing the DOWN button. The date, time, volts, amps, and W.hr or kW.hr can be downloaded to a computer or a permanently connected printer either directly, at a set capture rate, or by pressing a front-panel button. The meter has up to six relays available for alarm or control functions. The relay setpoint modes can be individually programmed to activate from any channel or result.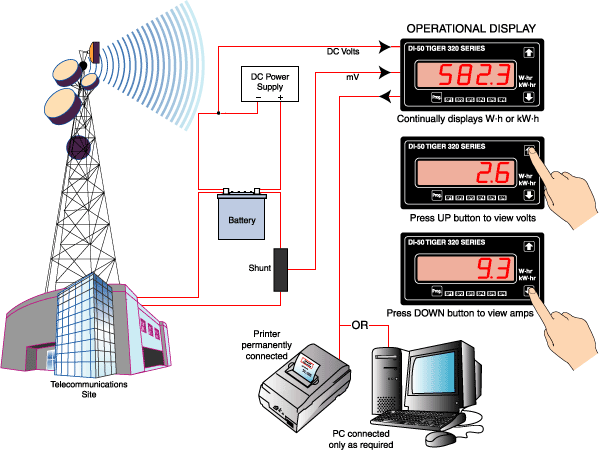 APPLICATION VARIATIONS
A Tiger 320 Series alphanumeric DI-60AT meter can be used to customize the display text to suit the application.
Setpoints are available for volts or amps control and alarm functions.
16-bit analog output is available for connection to a chart recorder or systems.