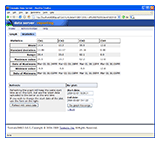 The Texmate Data Server is a server application that facilitates the communication of data between two or more Texmate Tiger controllers as well as remote logging of data from any number of Texmate Tiger controllers.
The Texmate Data Server is an enterprise platform: You can expand it's power with Apps for both the HTTP server and the TTP server. Apps for the Data Server (as opposed to Apps for the Tiger Controller products or embedded devices) are written in Python, a friendly, easy to use high level language used at places like Google and Industrial Light and Magic.
The server uses TCP/IP for communication and therefore Tiger Controllers can be in remote locations; for example at a construction site using a wireless modem (WiFi, Celluar) to connect to the internet or a TCP/IP network to communicate with the server. A unit(s) leaves some data with the server, while another unit(s) located somewhere else can retrieve that data from the server and act upon it. The data is also logged on the server, and the server has an http interface for graphing and statistical analysis, as well as for exporting to csv files for further analysis in your favourite spreadsheet program. You can view a demo of the Client HTTP Interface here: http://www.texmate.com:8080/
The server is fast enough to handle many concurrent Tiger Meter Controllers. Sample Apps are available on our website for download to help you get started with your Tiger Meter Controllers.
Texmate Data Server is provided by Texmate free of charge and runs on Microsoft Windows XP, 2003, Vista, or Windows 7. For Mac OS X or Linux server versions, please contact us directly.