The Tiger 320 Series controller using a pH sensor input module operates directly with standard pH sensor outputs.
For quick and easy sensor calibration, the Tiger 320 Series controller has On-demand single and two-point calibration functions from the front panel program button.
The relay outputs controlling the pH reagent are programmed in the repeat mode (programmable OFF/ON-time). After a selected time interval, the solution pH is checked (OFF-time), and if reagent is required, a programmed (ON-time) amount of the reagent chemical (acid or caustic) is added. The cycle continues until the reaction tank is at the correct pH level.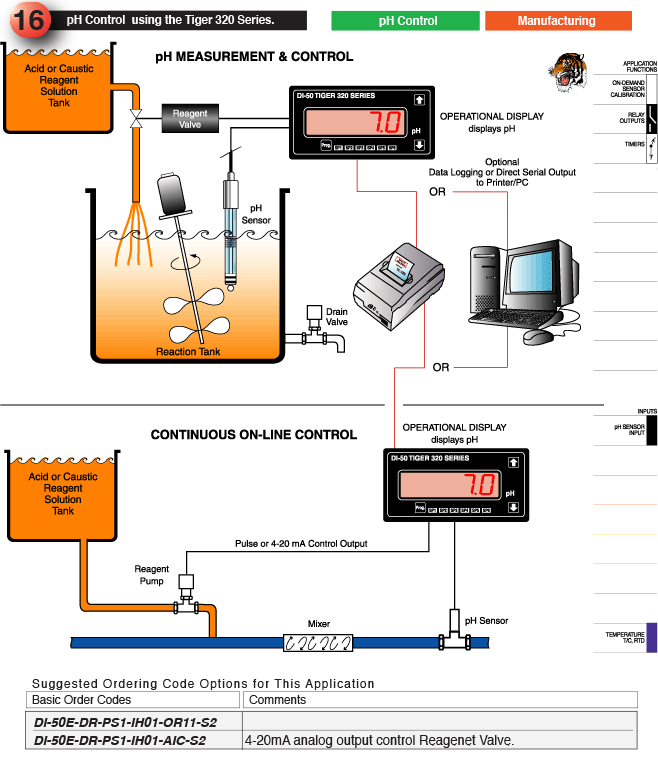 APPLICATION VARIATIONS
RTD input for temperature compensation.
Relays for temperature control and alarm functions.
A small macro can be added so that the reagent relay ON time is automatically adjusted to regulate the reagent flow proportionally relative to the pH setpoint error.
Automation output for sensor retraction and calibration.
PID control.
Data logging.
Batch processing.
Continuous on-line control.
Analog output