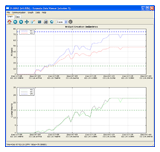 The Texmate Data Viewer is an easy to use graphing and data log extraction package for the Texmate Tiger series of Programmable Meter Controllers.
It connects to your meter through a serial (RS232/485) line or Ethernet TCP/IP communication (FAQ) and reads the data in the data log for display, export, or graphing. You can also fully configure the data log, and set logging timers and triggers as well as set Print data for Serial Printers.
It is provided by Texmate free of charge and runs on Microsoft Windows 2000, XP, Vista, 7, or Mac OS X 10.5+ (Intel only) (Universal Binary v3.3.0.2 - 4.0.0.4).
If you are using the Texmate USB to RS-232 converter (CV-USB/232), or a Texmate USB Serial module (S1, or S3), please download the latest driver from Prolific.
Download
(4.2.5.0, 18.0 MB, May 25, 2011)
(4.2.5.0, 9.3 MB, May 25, 2011)