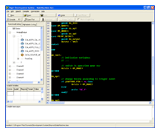 The Texmate Development System (TDS).

The Texmate Development System is designed as a comprehensive professional suite for macro code development on the Tiger platform.
It supports both serial and Ethernet communication (FAQ) to your Texmate Tiger series controller.
If you are using the Texmate USB to RS-232 converter (CV-USB/232), or a Texmate USB Serial module (S1, or S3), please download the latest driver from Prolific.
Download
Send request via email -
[email protected]