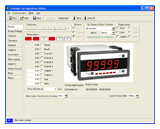 This is the recommended utility program to setup and configure your Tiger 320 Series Programmable Meter Controllers, (version 3.05C and later).
You can connect to your Tiger meter with either RS-232 or RS-485 communication or using Ethernet communication (FAQ).
This program will run on the Windows 2000, Windows XP, Windows Vista, and Windows 7 operating systems.
For a version of this program that runs on the Linux operating system please contact us directly.
If you are using the Texmate USB to RS-232 converter (CV-USB/232), or a Texmate USB Serial module (S1, or S3), please Download Free PL2303G driver for Windows.
Download
(2018.06.29, 2.6 MB, Aug. 31, 2018)
If you find an issue with our software please report it.
Related Literature